Sonosky, Chambers, Sachse, Endreson & Perry, LLP was established in 1976 with a single purpose – to represent Indian tribes. And that is what we continue to do today – we represent tribes across the country in litigation, lobbying, economic development, health care, self-determination and self-government, transportation, tribal government, and more. Read more . . .
---
JOB ANNOUNCEMENT – Experienced Attorney
Sonosky, Chambers is seeking an experienced attorney with 5 or more years of experience in litigation, transactional, water, natural resource, or Indian law matters for our Albuquerque, New Mexico office. Interested applicants should have strong credentials and a commitment to representing Native American interests.

Sonosky, Chambers is a national law firm dedicated to representing Native American tribes and tribal organizations in a wide range of areas, including litigation, federal Indian law, tribal law, Indian self-determination and self-governance matters, commercial transactions, transportation and infrastructure, water law, natural resources, and economic development.
To apply, candidates should send a cover letter, resume, law school transcript, and a writing sample to Susan Jones at sjones@abqsonosky.com. This position is open until filled. Applicants should be licensed to practice or eligible to become licensed to practice law in New Mexico.

---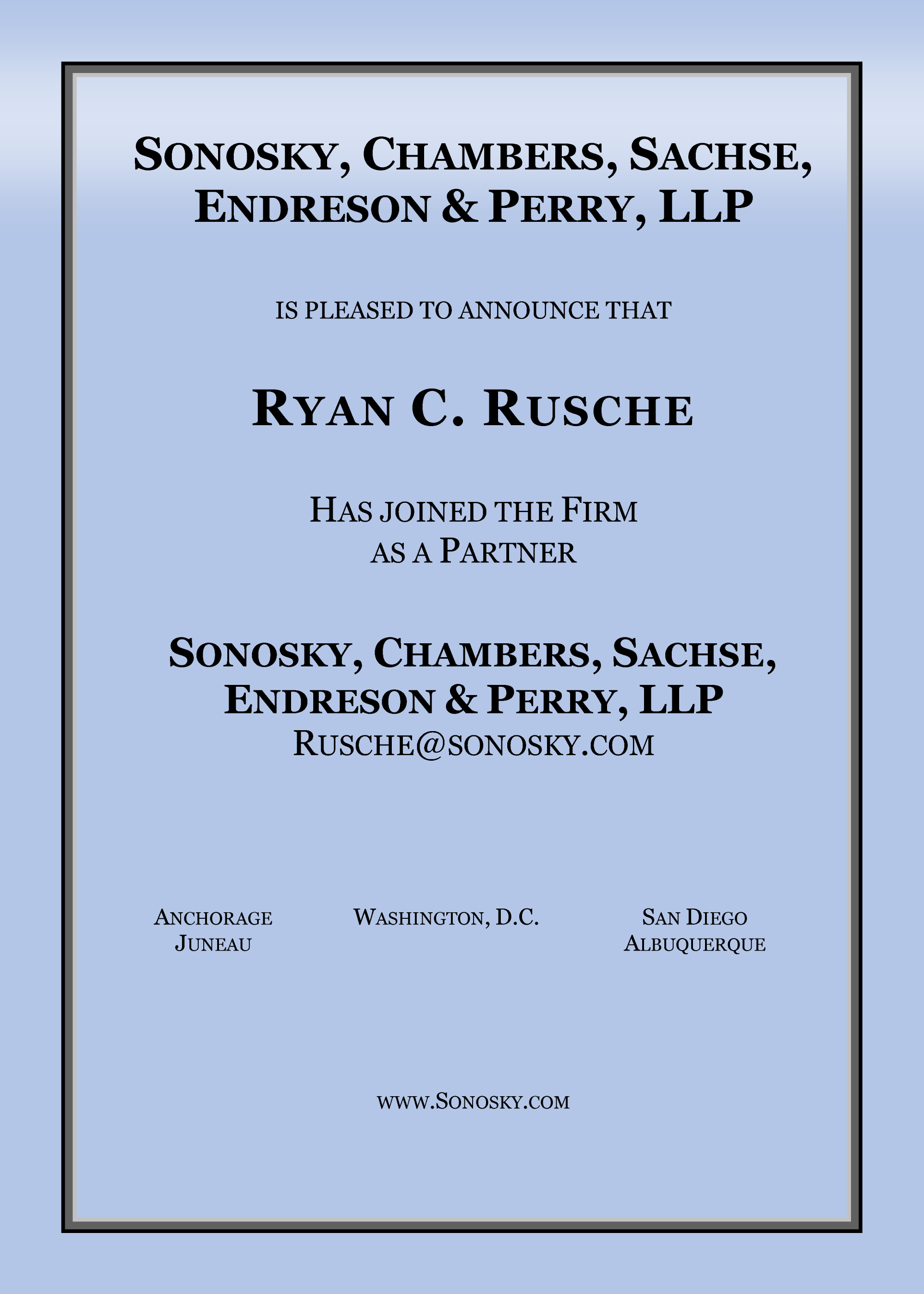 ---
The firm of Sonosky, Chambers, Sachse, Endreson & Perry, LLP is sad to announce the passing of Arthur Lazarus, Jr. Arthur's contribution to our firm and to Indian law was enormous. He established the first Indian law practice at a large firm in D.C. when he was a partner at Fried Frank. He was an outstanding litigator – as the United States Supreme Court's decision in the Sioux Nation case demonstrates, which was only one of his many successes. When Arthur joined us – at Marvin Sonosky's urging after Arthur had retired from Fried Frank – he was a giant in the field, and brought a wealth of experience, judgment, and warm collegiality to the firm. He was humble, respected others and their views, and listened carefully when they spoke. His character and professionalism exemplified the importance of civility in law practice, which enables one to treat other lawyers with the dignity and respect to which all persons are entitled, while at the same time addressing matters of law through advocacy. He relied on the law and his integrity to advance the legal position that his great mind had concluded was best. He never sought to make his points other than by reason and persuasion. And when others sought to answer his argument by other means, it did not distract him to realize that they had no better answer to what he had said. All of us are privileged to be part of a firm that has a place in Arthur's great legacy.