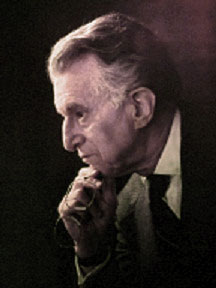 Marvin J. Sonosky (1909-1997)
The Firm is proud to build on the foundation established by Marvin J. Sonosky, whose long career was devoted to advancing tribal interests. Mr. Sonosky was a strong, dedicated advocate who stood up for tribal rights at a time when few others were willing to do so.
From the 1950's, Mr. Sonosky practiced law on his own, successfully representing tribal clients across the country. Then, in 1976, he was joined in his law practice by two other advocates for tribes. Harry Sachse had served as Assistant to the Solicitor General at the U.S. Department of Justice – where he briefed and argued numerous landmark Indian law cases in the Supreme Court. Reid Peyton Chambers had been Associate Solicitor for Indian Affairs at the Department of the Interior – where he provided a strong voice within the government in support of tribal rights.
Since its founding in 1976, the Firm has added attorneys, professionals and offices to better serve Indian country. The Firm has grown as the tribes have expanded the scope of their governmental endeavors. But while much has changed, the fundamental principles that inspired Mr. Sonosky and that led to the Firm's creation remain important guideposts for the Firm. To put it simply, seeking justice for the tribes continues to be the central calling of the Firm. In this way, we are proud to continue and advance the work begun by Mr. Sonosky.